Jesus' Last Supper
Lesson 3.03
Jesus' Last Supper was a special Passover meal that Jesus meticulously planned for a very important occasion. His last supper has significant meaning for those who follow him.

Please read Mark 14:12-31 before starting GraspingGod.com's free Bible study lessons, #3.03.
Previous lesson: Meaning Of Palm Sunday #3.02.
Preliminary Bible Study Questions:
1) Who betrayed Jesus at his last supper?
2) Why did Jesus wash the disciples' feet?
3) What is communion?
4) Which of the 12 Disciples would deny Jesus three times?

Jesus' Last Supper was so much greater than sharing a meal! It became a classroom of knowledge for future generations of believers. The apostles of Jesus Christ were the only people on the invitation list, because he had several critical items to discuss before he brought himself to the cross.

The Passover Meal
Jesus' Last Supper was a Passover meal, specifically named The Feast of the Unleavened Bread.
This Jewish meal had significant meanings. The meal was held on a Jewish Holy Day that commemorated the Lord's provisions during the Exodus from Egypt. It was celebrated on Nisan 14th of every year. Nisan 14th on a non-Jewish calendar in 2012, for example, would be Friday, April 7th. This was a family meal where everyone would be involved in both the preparations and festivities.
The bread was prepared with no leaven, because there was no time to add leaven during the rush of the Exodus. A lamb was slaughtered between 2:30 and 5:30pm and the meal was served right around sunset.

The Passover meal included a set pattern of eating courses, singing psalms and giving thanks. Wine was served at four different times throughout the meal. Bitter herbs were served. The unleavened bread was a central course along with the lamb. The Hallel (Psalm 113-118) was sung and parts of the book of Exodus were read and discussed amongst the family members.
Jesus Christ, always the reformer, had something new to present at this particular passover meal.

A New Beginning - The Lord's Supper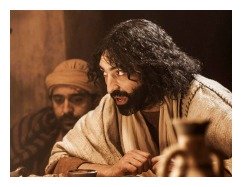 Jesus' Last Supper was to institute a new beginning. The Passover Meal celebrated the passing over of the Angel because of the sacrificial lamb's blood upon the Israelite's doorposts.
Jesus' Last Supper would begin celebrating the life and sacrifice of the Lamb of God himself, Jesus Christ.
The Passover meal became obsolete when the Lord's Supper (aka Communion) replaced it on this particular evening. Let's learn more about this fascinating fellowship Jesus had with his 12 disciples. There are some surprises in store for you!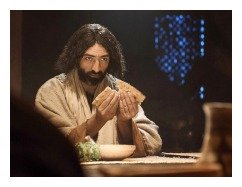 First of all, if you remember, I mentioned the Passover Meal was celebrated with family. But on this evening Jesus started something new. He boldly stated with his invitation list that The Lord's Supper should be celebrated amongst Christian believers.
Jesus had previously spoken about his new, real family (Matthew 12:46-50; Luke 18:28-30). The statement here confirmed how serious Jesus was about who his real brothers and sisters were. The Lord's Supper (aka Communion) should now be celebrated when believers meet in fellowship.

Next, the Passover Meal celebrated the Old Covenant that was written in stone and ratified on Mt Sinai in Exodus chapters 19-24. Jesus made the statement that the Lord's Supper would celebrate the New Covenant (Jeremiah 31:31), which is written on believers' hearts. Blood from animals ratified the Old Covenant, but the blood of the Lamb, Jesus Christ, ratified this New Covenant.
The Jews and Gentiles alike need only look at who died for them on the cross - Jesus Christ. The Passover Meal is now obsolete and Resurrection Sunday (aka Christian Easter Sunday) is the new day to commemorate the atonement!

Who Betrayed Jesus?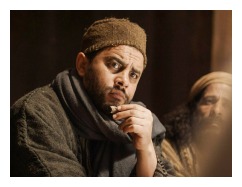 In a dramatic turn of events at Jesus' Last Supper, Jesus informed his 12 disciples that one of them is his betrayer. The apostles of Jesus Christ were shocked! That is, eleven of them were shocked.
Jesus' disciple, Judas Iscariot, asked, "Surely not I, Rabbi?" Judas had already sold his soul for 30 pieces of silver mere hours before this meal, so his question was tainted with disrespect towards Jesus, who quickly retorted, "Yes, it is you." (Matthew 26:23-25).
Judas Iscariot immediately left the room in order to update the Sanhedrin and collect his blood money (John 13:30). Within hours Judas' kiss of betrayal would be planted firmly on Jesus' cheek.

Holy Communion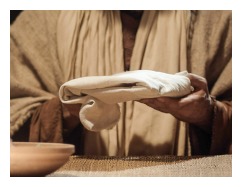 Jesus was just beginning - he had so much to teach! The Passover remembered Israel's bondage and exodus from Egypt. The Lord's Supper would now remember Jesus' death by the eating of bread.
The bread symbolizes Jesus' body, which was broken, but then glorified for eternal life. Jesus said, "Take and eat; this is my body." They were instructed to celebrate Jesus' life, that is - Jesus' resurrection life.
They would also celebrate Jesus' death by the drinking of wine. The wine symbolizes the blood Jesus shed for you and me. Jesus said, "Drink from it, all of you. This is my blood of the covenant, which is poured out for many for the forgiveness of sins."
Wow! The disciples had to be totally confused by this point! This was hard teaching by Jesus and it was only later when they fully understood what Jesus was teaching here.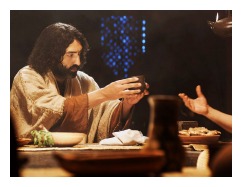 Jesus' Last Supper instituted what is now referred to as Holy Communion (aka The Lord's Supper, The Lord's Table, The Eucharist, or The Love Feast). Christians now gather around and fellowship and share Communion to celebrate and remember the sacrifice and resurrection of Jesus Christ.
Jesus promises to be at communion with the believers in Spirit. He visits in order to nourish our souls and empower us for his work (Ephesians 3:14-21; Colossians 2:6-10,19).

While drinking from Jesus' cup, it was stated, "I tell you, I will not drink of this fruit of the vine from now on until that day when I drink it anew with you in my Father's kingdom." (Matthew 26:29). This is yet another bold prophecy. Jesus was saying this was his last drink with his beloved disciples until a future time, "In my Father's kingdom."
This was a charge for the disciples and us as well, to prove that we love him through our obedience. We are called to persevere until he returns. He is encouraging his followers to eagerly await the 2nd coming of Jesus. We will then share the Marriage Supper of the Lamb with him. That will be so glorious - yet another meal with Jesus!
Until that time, each of us are asked to open the door for Jesus, so he can enter and dine with us (Revelation 3:20).

Humility and Servant Leadership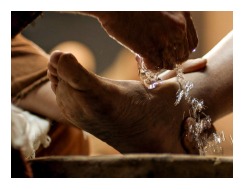 Next on the agenda at Jesus' Last Supper was a lesson about humility. The disciples were arguing about which one of them would be the greatest in God's Kingdom.
After Jesus rolled his eyes, and shook his head in disbelief (Okay, you caught me - I embellished those parts!), he told them that those of you who are the greatest shall be the servants of the others.

That is radical and unlike anything they had ever learned in their lives. So, in order to be great in God's Kingdom, one must be small and lowly - a servant. Jesus showed them an illustration by washing each of the disciples' feet (Luke 22:24-27).
This teaching turns modern leadership methods upside down. Servant leadership was the lesson at Jesus' Last Supper.

Prophecy Of Peter's Denials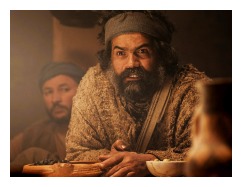 The final news at Jesus' Last Supper was yet another shocking revelation. Peter would deny Jesus three times before the rooster crowed in the morning. Keep in mind, this was nothing compared to the extent of Judas' betrayal of Jesus. Judas' betrayal was sinister. Peter's denials were cowardly, arising because of momentary fear.
Peter was deeply troubled by Jesus' prediction. Peter was bold and brash, thinking this would never happen to him. He found out soon enough that Jesus knows exactly what the future holds. This gives us confidence to trust in Jesus' words and in fact, Jesus' life in its entirety.

Grasp This!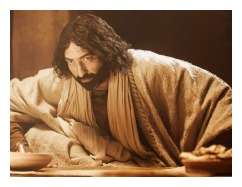 Jesus and the Last Supper brought a critical series of messages immediately before Jesus' death. Jesus' Last Supper was the final fellowship evening with the apostles. Jesus made the most of the opportunity.
He instituted the Lord's Supper and called out the betrayer, Judas. Jesus taught a strong message about Christian humility and informed Peter of his imminent denials.
Jesus and his 11 remaining disciples finally sang some songs and left the building to go up to the Mount of Olives. It was now late at night and time for Jesus to pray in the Garden of Gethsemane.
What a meal! What lessons we all learned! You and I, being Jesus' disciples, must heed all of his teachings.
He wants us to fellowship with real believers in Holy Communion. He wants us to never, ever betray him because it will lead to eternal death and damnation. He wants us to practice servant-hood by treating everyone equally and performing service to all of God's people.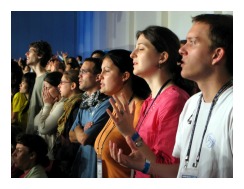 Finally, we were instructed to not become haughty with our faith, such as Peter mistakenly did. Satan will tempt us, filling our hearts with fear so that we deny Jesus Christ. It can happen to any of us, so beware.
Let's develop courageous hearts for the times of persecution that will definitely come IF we are truly disciples of our risen Lord, Jesus Christ.
Next lesson: Jesus Praying In the Garden #3.04.
Bible Study Questions:
1) It's unfortunate so many Jewish people still celebrate Passover when they could be celebrating their Messiah's resurrection. What do you think keeps them from understanding that their long-awaited Savior has come?
2) We discovered in this Bible study that Judas Iscariot betrayed Jesus for a meager 30 pieces of silver. Judas was Jesus' disciple, but apparently not saved. How is it a disciple of Christ cannot be saved? (Matthew 7:21-23; Hebrews 6:4-6).
3) Jesus displayed an act of humble service by washing the disciples' feet. Knowing that God's Kingdom consists of servants, what are some ways you can serve God and other people?

Inspirational Bible Verses:
When we bless the cup at the Lord's Table, aren't we sharing in the blood of Christ? And when we break the bread, aren't we sharing in the body of Christ? And though we are many, we all eat from one loaf of bread, showing that we are one body. 1 Corinthians 10:16-17

For I pass on to you what I received from the Lord himself. On the night when he was betrayed, the Lord Jesus took some bread and gave thanks to God for it. Then he broke it in pieces and said, "This is my body, which is given for you. Do this to remember me." In the same way, he took the cup of wine after supper, saying, "This cup is the new covenant between God and his people — an agreement confirmed with my blood. Do this to remember me as often as you drink it." For every time you eat this bread and drink this cup, you are announcing the Lord's death until he comes again. 1 Corinthians 11:23-26

Faith Quotes!
Although [at the Lord's Supper] my mind can think beyond what my tongue can utter, yet even my mind is conquered and overwhelmed by the greatness of the thing. Therefore nothing remains but to break forth in wonder at this mystery, which plainly neither the mind is able to conceive nor the tongue to express. John Calvin Quotes

The Lord's Supper is an ordinance of Jesus Christ to be administered with the elements of bread and wine, and to be observed by His Churches until the end of the world. It is in no sense a sacrifice, but is designed to commemorate his death, to confirm the faith and other graces of Christians, and to be a bond, pledge and renewal of their communion with Him, and of their church fellowship. James Boice

Prayers of Thanksgiving:
Dear Lord, Jesus' Last Supper was a remarkable evening full of shocking news, and a new way of doing things in the Kingdom. Help me to instill Jesus' teachings into my heart and daily practices. I want to obey my Lord and Savior. Amen

After sharing this Bible study lesson on Facebook or Twitter below download your FREE printable Bible Study Lessons (pdf version): Jesus' Last Supper, Lesson 3.03. Please Donate To GG.com!

Return to Jesus On the Cross page. Return to GraspingGod.com Homepage.
Special Note: I'm grateful to Big Book Media & Free Bible Images, Stock Exchange, Morgue Files, and Stock Photos For Free for the use of their photos for Jesus' Last Supper Bible study lesson.